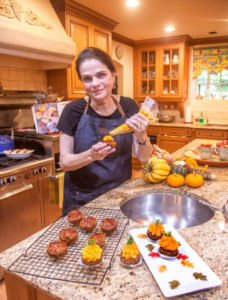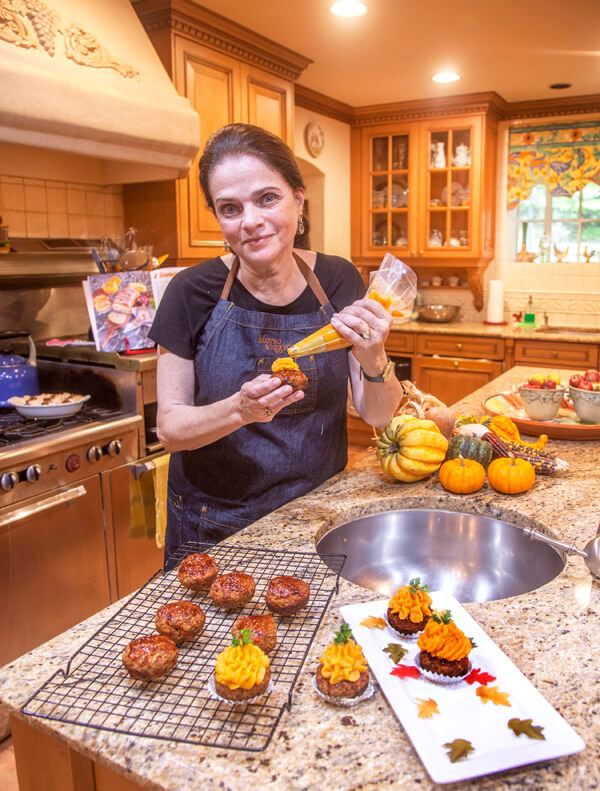 My love affair with cooking and baking began when I was a teenager.  I had my Proustian moment with my mom's rich and buttery streusel topped coffee cake. If she didn't hide it from me, I would pluck and eat all the streusel, leaving behind a funny looking pockmarked cake.  This confection inspired my passion for baking and cooking and launched a thousand recipes.
Today I am married with grandchildren, and I reside in a bucolic borough in Northeastern New Jersey with my husband and our mischievous French Water Dog, Chloe.
For the past nine years I have had the pleasure of writing a monthly food column for my local magazine.  It began in the fall of 2010 when I submitted a recipe for chocolate balloon cups for the magazine's Ravenous Resident page.  The recipe was a hit, and I was asked to consider writing a monthly food column. Dozens of recipes and scores of photos later—I'm still researching, testing, cooking, baking, plating and styling the food for our monthly food column.  As much as I enjoy writing the column, my favorite part is photo shoot day. That's when I get to work with the magazine's head photographer, Bud Endress.  I provide the food and the props—and Bud composes the elements, takes the photos and makes the food come to life.
My recipes highlight seasonal colors, tastes, textures, produce and vegetation. An Autumn recipe is a pumpkin pecan pie, while a Winter recipe provides a stick to your ribs dish of braised short ribs of beef in barbecue sauce.  A Spring recipe for lemon squares evokes spring sunshine, while patriotic red white and blue balloon cups is the Summer submission.
My food is fun and festive and usually has a little twist such as two soups in one bowl with a heart crouton, or trompe l'oeuil cheeseburger cupcakes with a side of sugar cookie fries.  And…I must confess…I have an insatiable sweet tooth—hence the disproportionate number of dessert recipes.
In addition to eventually posting all of my food columns, I will share favorite kosher seasonal and holiday recipes that I have prepared for my family and friends.
I named the website name "Leave It to Bubbe" because it evokes a wholesome sitcom "Leave it to Beaver" of the 50s and 60s. I also chose to be called Bubbe by my sweetheart grandchildren, because I never had a Bubbe.  I am the only child of Holocaust survivors—two extraordinary individuals who provided me with a happy childhood.   A Bubbe connotes love, warmth, nurturing and the transmission of our cherished traditions with lots of good home cooking and baking.  It is an honor and a privilege to be a Bubbe to my three adorable munchkins.
I launch this website with my family—especially my precious grandchildren—friends, and fellow foodies in mind—so that I can share my love of food, family and tradition.